Description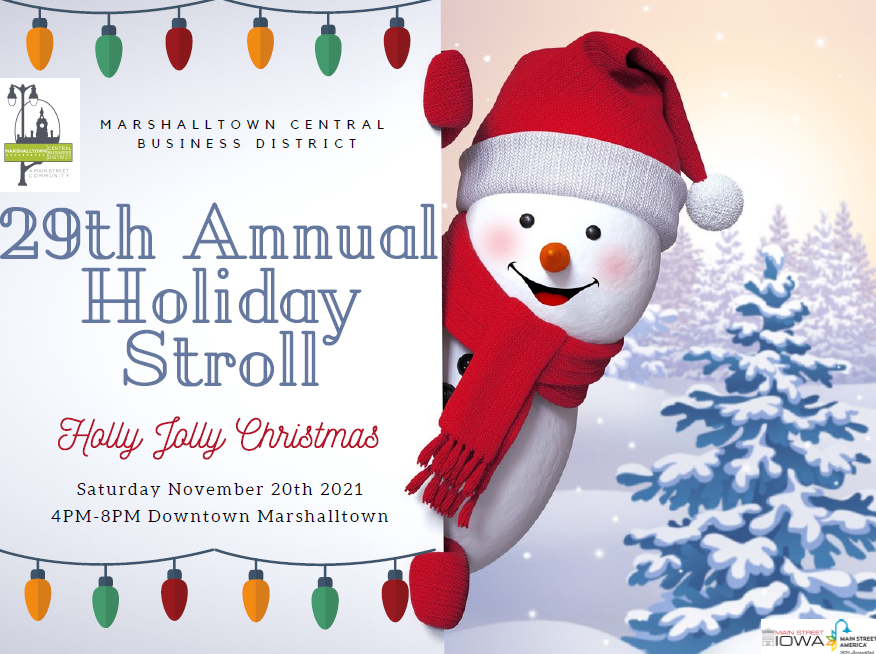 Click here to see the Holiday Stroll website for more information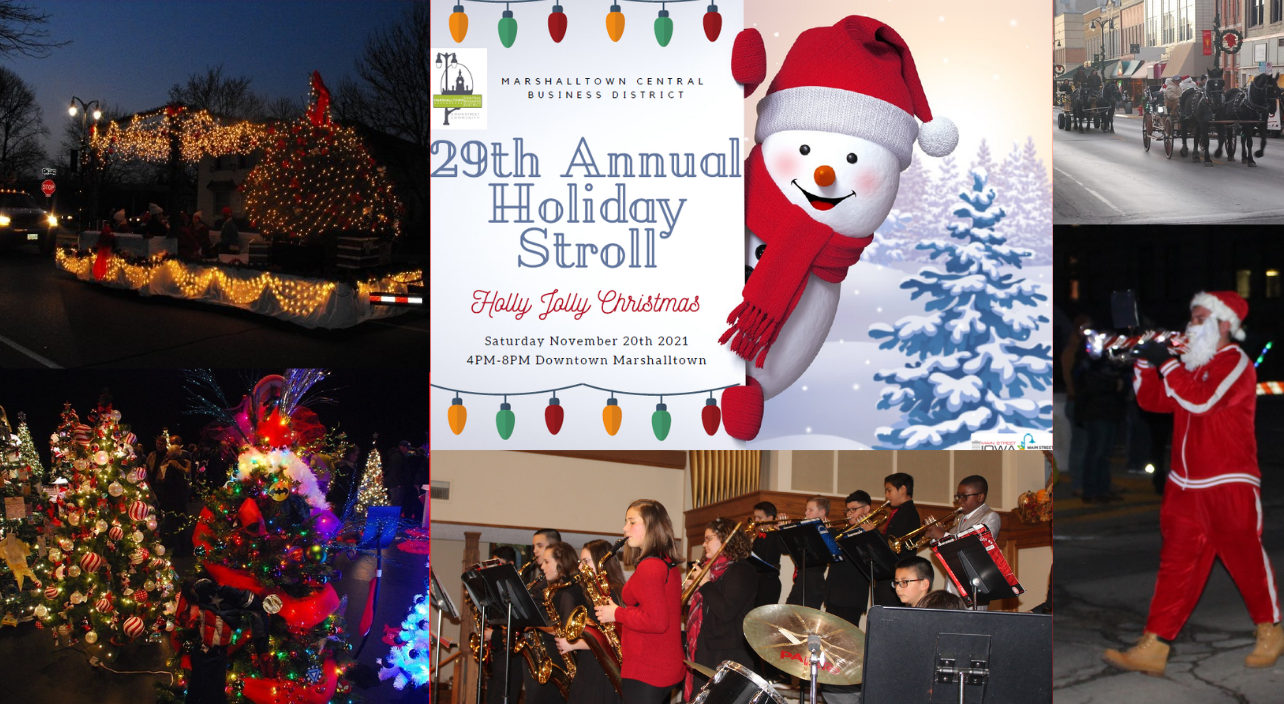 29th Annual Holiday Stroll
Saturday November 20 4-8pm
Theme: Holly Jolly Christmas
Many community members are anticipating the return of the Holiday Stroll, which is Saturday, November 20 in downtown Marshalltown. The stroll will feature a lighted parade, specials in stores, entertainment and more. It's a great way to get the community in the holiday spirit.
Check out these events and more!
Plume Hill Carriage Rides 5:30-8pm
Lit Parade 5-5:30pm
Miller Middle School Jazz band performing holiday favorites from 4 to 4:30 p.m. at First Presbyterian Church.
Stalzer's Holiday Photography 4- 8 p.m.at 214 E. Main St.
Santa's Workshop hosted at Great Western Bank sponsored by The Times-Republican
Festival of Trees and Christmas Craft Village hosted at the Coliseum 2-8 p.m.
Free will donation gift wrapping station in the Coliseum-fundraiser for the Youth Ambassadors and Holiday Stroll
DIY ornament kits for sale in the Coliseum-fundraiser for the Holiday Stroll
The American Legion will be selling food at the Coliseum
KDAO will be live broadcasting from the Coliseum
Christmas Window Display Competition
Live music by Phil Shipley at Tannin, 5:30 p.m.
Appleberry Farm Apple Wagon and Dave's Mini Donuts will be set up in front of the Courthouse
Children's Carnival at The Vineyard Church 5:30-7:30 p.m.
Iowa Central Modular Railroad Train Display at McGregors Furniture
The Vineyard Church will be hosting a free Kids Carnival from 5:30-7:30pm. They will have balloons, face painting, carnival games with prizes, free popcorn, hot chocolate, and cookies/bars.
Marshalltown Men's Chorus
4:15-4:45PM at Vineyard Ch
ristian Fellowship 214 W Main St
Community Theatre's cast members from "Gift of the Magi" Caroling & Strolling from 5:30-7pm