Live on Stage presents Black Market Trust
Tuesday, November 9, 2021 (7:00 PM - 9:00 PM) (CST)
Description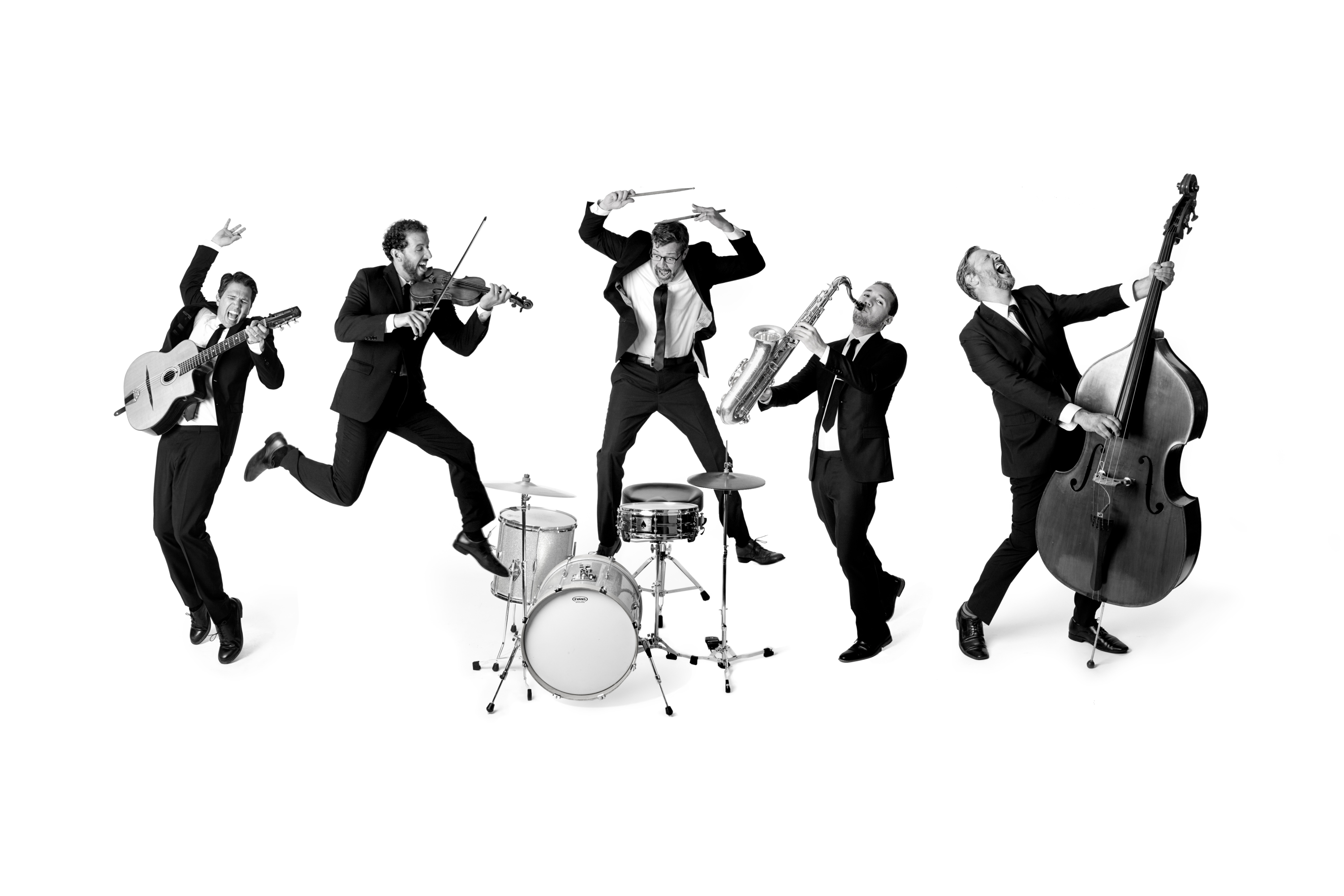 Black Market Trust to Perform in
Marshalltown, IA on November 9, 2021
Live On Stage Marshalltown presents
high-energy swing band as part of their 2021 - 2022 Concert Season
High-energy "living room" swing band, Black Market Trust, is bringing their intricate harmonies and Rat Pack-style comedy to Marshalltown Performing Arts Center (located at Marshalltown High School) on Tuesday, November 9, 2021 at 7:00 p.m. as part of Live On Stage Marshalltown's current performance season. All regular members can attend free of charge as part of their annual membership. A limited number of individual tickets are available for non-members. Individual tickets can be purchased online at www.losmarshalltown.org and picked up the night of the concert at Will Call. For more information, or to purchase season memberships or individual tickets, visit www.losmarshalltown.org, email losmarshalltown@gmail.com, or call 641-328-9445.
"…virtuosic playing, beautiful harmonies, and fun
interaction with the crowd."
– PBS
Black Market Trust is an American pop/vocal jazz band that combines the sounds of the great American crooners and vocal groups with the romantic Eastern European gypsy fire of jazz guitarist Django Reinhardt. The band, made up of five world-class musicians, has toured the world extensively and performed on some of the world's biggest stages and with some of the most renowned artists in musical history. Merging their love of everything from The Mills Brothers to The Beach Boys, Sinatra to Lennon/McCartney, their performances feature reimagined staples from the Great American Songbook in their unique, organically created sound that is daring, fresh and exciting yet somehow still familiar and inviting. Click Here To View A Video Of Black Market Trust.
Marshalltown Performing Arts Center
1602 S. 2nd Ave



Marshalltown

,

United States



Tuesday, November 9, 2021 (7:00 PM - 9:00 PM) (CST)