View the dream flight for veterans
Wednesday, August 24, 2022 (9:00 AM - 10:00 AM) (CDT)
Description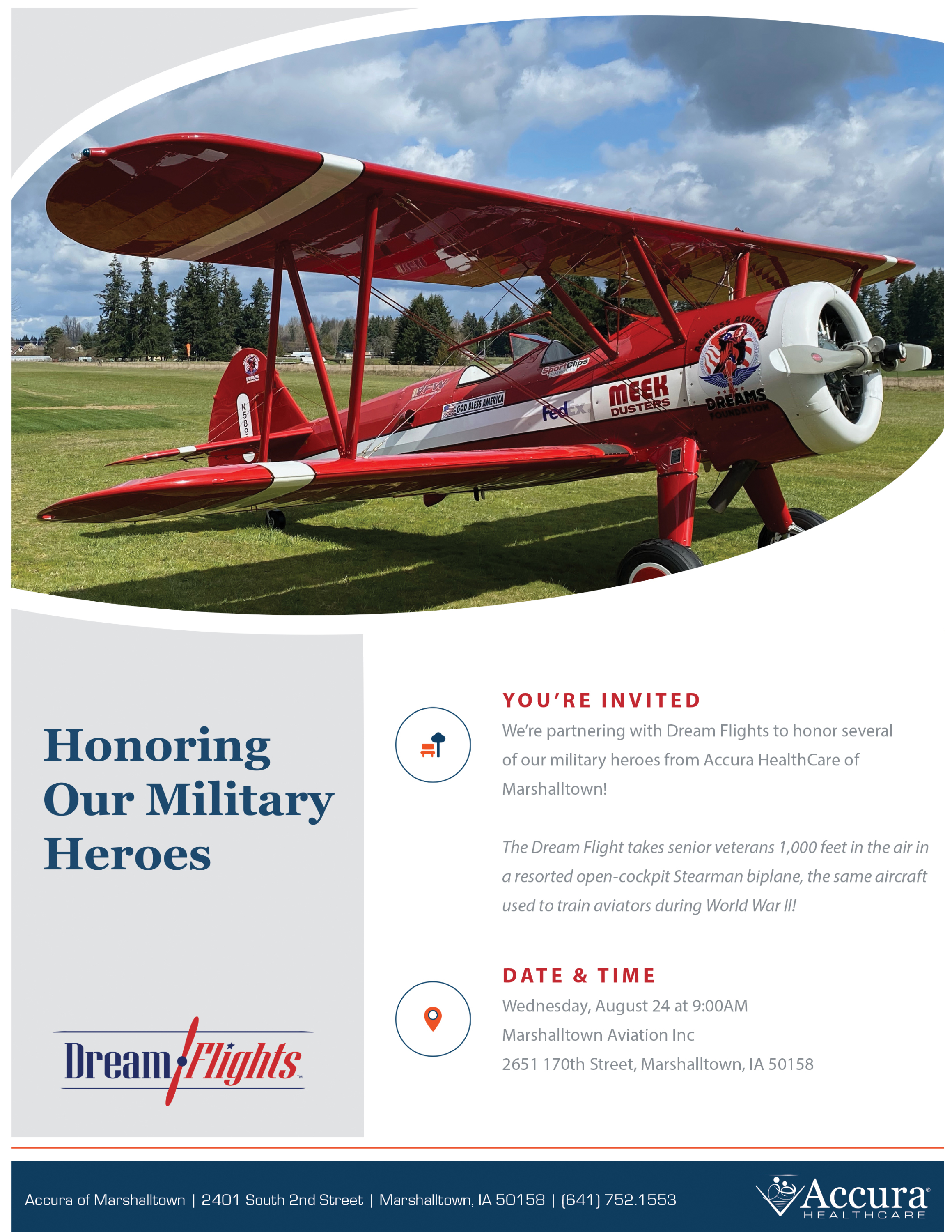 Open to spectators .
***MEDIA ALERT*** Local Veteran Seniors to Soar Marshalltown Skies in Restored Open-Cockpit Biplane WHAT: 2022 Dream Flights Tour Marshalltown, Iowa 2 seniors from Accura HealthCare of Marshalltown (84-bed skilled nursing facility) will experience the magic of a Dream Flight on Wednesday, August 24th at 9am. The Dream Flight takes senior veterans 1.000 feet in the air in a restored open-cockpit Stearman biplane, the same aircraft used to train aviators during World War II. Marshalltown is among 100+ U.S. cities in which Dream Flights plans to land during the 10-month tour that started April 2. 5,000+ seniors and veterans have been honored with free Dream Flights since 2011. Of those nearly 1,000 were honored during in 2021 Operation September Freedom, a historic 61-day tour that landed in 49 states and 333 cities to honor as many WWII heroes as possible with free Dream Flights. PHOTO/VIDEO: The plane is equipped with a GoPro MOUNT. Footage will be shared with Accura HealthCare following the event. Click here for b-roll and photos of past Dream Flights footage. OPPORTUNITY: The Dream Flights pilot is available for interview between 8-8:45am. Media and community members are invited to observe the event. WHEN: August 24, 2022, at 9:00 am WHERE: Marshalltown Aviation Inc, 2651 170th St, Marshalltown, IA 50158 CONTACT: Accura HealthCare Contact: Tiffiney Kavars, Regional Director of Business Development, 515-330-5854, Tiffiney.Kavars@accura.healthcare Dream Flights Contact: Erinn Erker, Dream Flights Scheduler, 240-561-2579
Marshalltown Aviation, Inc.
2651 170th Street



Marshalltown

,

IA

50158

United States



Wednesday, August 24, 2022 (9:00 AM - 10:00 AM) (CDT)