Welcome to Spring Craft & Vendor Show
Saturday, March 25, 2023 (10:00 AM - 4:00 PM) (CDT)
Description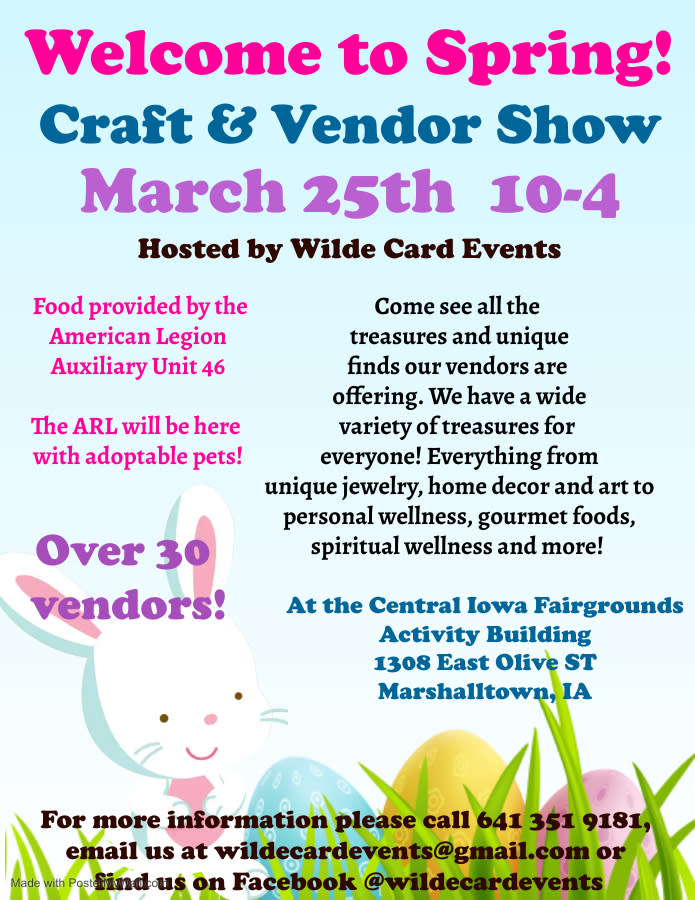 Get yourself ready for Spring and come see all the treasures and unique finds our vendors are offering. We have a wide variety of products for everyone! Everything from unique jewelry, home decor and art to personal wellness, gourmet foods, spiritual wellness and more!
You can also support two great causes: homeless pets and our local veterans!
The American Legion Auxiliary Unit 46 will be serving hot food during our event. All proceeds will be used to benefit our local veterans and their families.
The Animal Rescue League of Marshalltown will be on site from 10-2 with some of their adoptable pets! They are also accepting donations to help care for the many animals that pass through their shelter every year.
If you are interested in joining this event, please contact Trisha Wilder at Wilde Card Events. wildecardevents@gmail.com or at 641-351-9181.
Saturday, March 25, 2023 (10:00 AM - 4:00 PM) (CDT)